America is a big, big, place, meaning food styles change at what seems like every 100-mile mark. The good news is that different regions have created incredibly interesting and delicious burgers that you can often only get in one state (or even city). Add them to your menu to bring unique regional flair to your customers with no travel required.
---
Both the birthplace of the United States and quite possibly the hamburger sandwich, it's common for the cuisine of the Northeast US to be classic and steeped in tradition. Add the immense popularity of grab-and-go meals found on street carts across the cities, and the classic hamburger fits right in.

While some variations add Northeastern spin, the styles here don't stray too far from the original.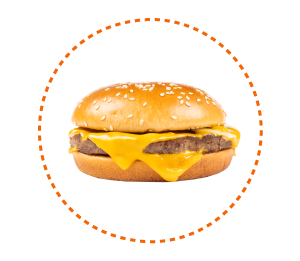 Connecticut Steamed Cheeseburger
Instead of fried or grilled, the steamed technique used in this burger helps melt away fats in the patty, which is then topped with cheese.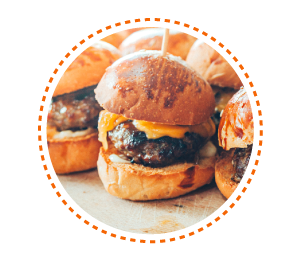 New Jersey-Style Slider
This mini-style burger is smashed, topped with onions, then cooked.
---
---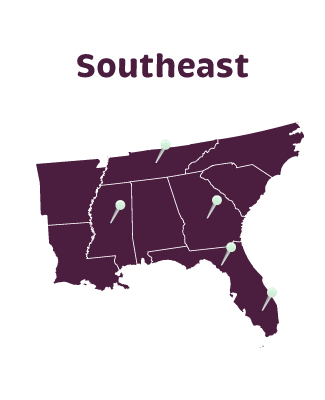 With influence from the French, Spanish, African, Caribbean, and more, the Southeast has a lot to offer on any plate—but comfort tends to tie them together. From fried-this to sugary-that, the burgers of this area reflect the welcomed contentment of savory and sweet indulgences and homecooked meals with family.

In these burgers, you'll often see creamy sauces, fried patties, Caribbean spices, and even sweet substitutions.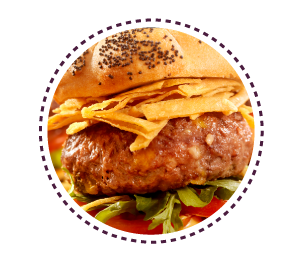 Comida Rapida Burger from Florida
The comida rapida (literally translating to "fast food") is a Colombian invention that comes covered in crushed potato chips and sauces—often garlic-mayo, ketchup-mayo, or a fruit sauce.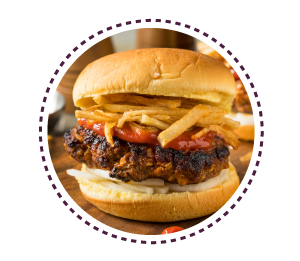 Frita Cubana from Florida
Originally a street food from Cuba, this burger might include chorizo or pork in the patty, then is topped with julienned potatoes, raw onions and ketchup.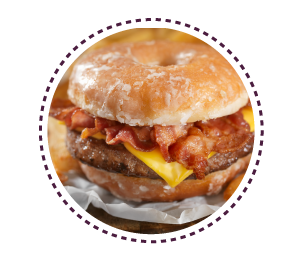 Luther Burger from Georgia
An artery-ignoring bacon cheeseburger set between two glazed donuts, possibly created by singer Luther Vandross.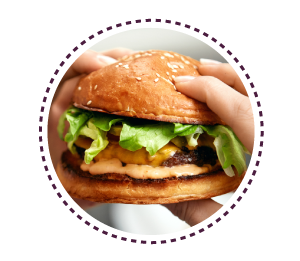 Deep Fried Burger from Tennessee
A patty smashed thin, then fried in soybean oil until cooked through.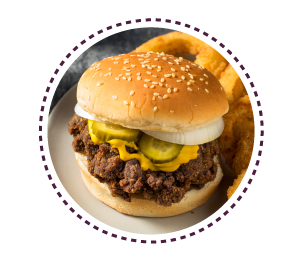 Slugburger from Mississippi
Using an old nickname for a nickel, the slugburger uses patties formed with breadcrumbs or flour as filler, plus a little salt, mustard, and pickles—no cheese.
---
---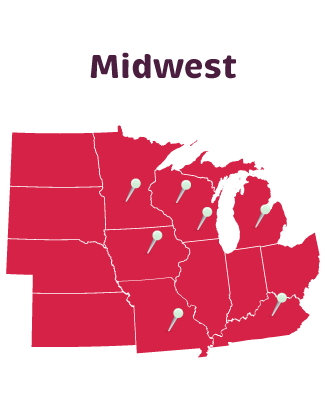 Center yourself in the US, face north and start walking, and you'll run into buttery, cheesy, carb-loaded dishes at every turn. The cuisine of the upper Midwest is simple yet high in calories (gotta stay warm during those long, cold winters) and the burgers there reflect that.

Hop into a burger joint in America's north coast and find options with a lot of cheese and literal butter in big, filling portions.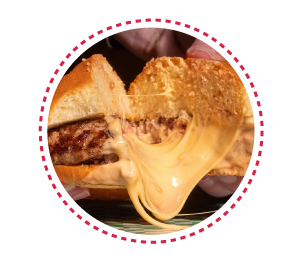 Juicy Lucy from Minnesota
A patty formed with American cheese in the middle, which is then grilled and served.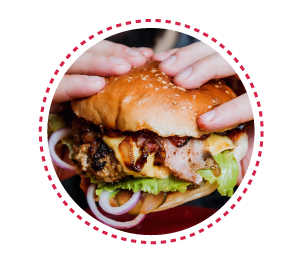 Butter Burger from Wisconsin
A fresh patty with toppings plus a healthy (poor word choice) helping of butter, either brushed under the bun or smeared onto the burger.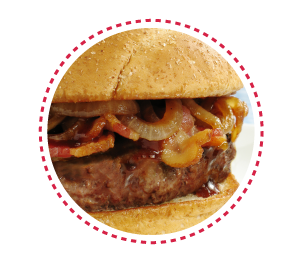 Poached Burger from Wisconsin
A patty and onions cooked in boiling water, resulting in a very juicy burger which is often served without cheese.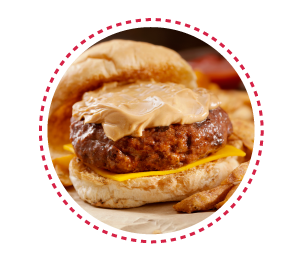 Guber Burger from Missouri
A smear of peanut butter gives this burger a sweet-and-salty twist.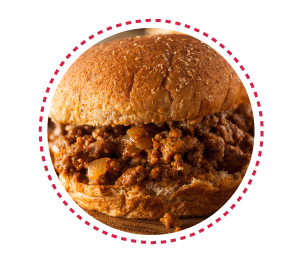 Loose Meat Sandwich from Iowa
Seasoned ground beef with onions, mustard and pickles between buns (think sloppy joes without the sloppy).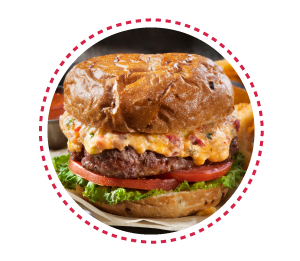 Pimento Burger from Kentucky
A smooth mix of cheese, mayo and pimento peppers tops (and names) this burger.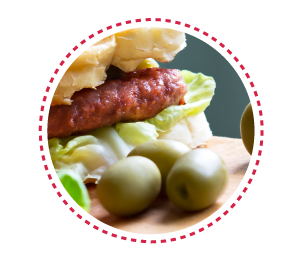 Olive Burger from Michigan
A 1920's creation made with a fried patty and olive-mayo spread along with other more predictable toppings.
---
---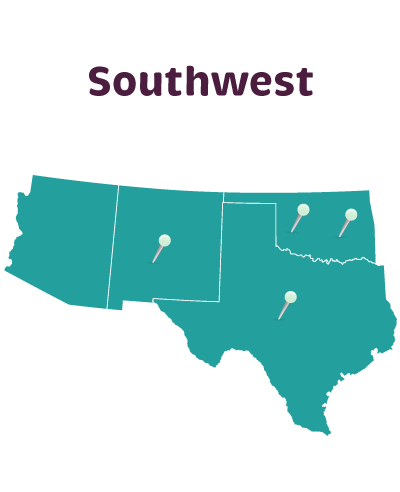 From the eastern-most part of Texas all the way to Arizona, food in the Southwest US tends to be inspired by Mexico and Americanized by bald-eagle-loving patriots. It's food as hot as the days and flavor as rich as the cultures.

On burgers, you'll taste things like hot peppers, crunchy corn chips, beans and BBQ sauce.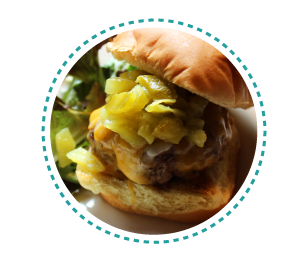 Green Chile Cheeseburger from New Mexico
A beef patty with locally grown chile pepper, either chopped and topped, or sauced and layered on.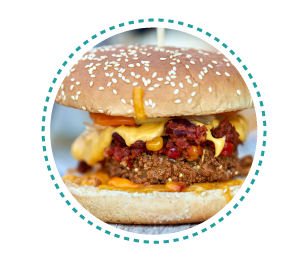 Bean Burger from Texas
Top a patty with refried beans, crushed corn chips, cheese-from-a-can and diced onions to get this Tex-Mex favorite.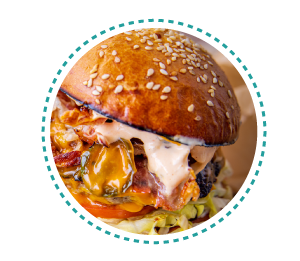 Theta Burger from Oklahoma
Created for a sorority at the University of Oklahoma, this burger is topped with BBQ sauce, shredded cheese, mayo and pickles.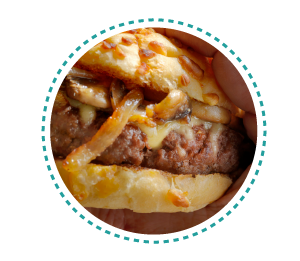 Fried Onion Burger from Oklahoma
A patty with onions smashed right in, grilled and served, resulting in a bigger burger.
---
---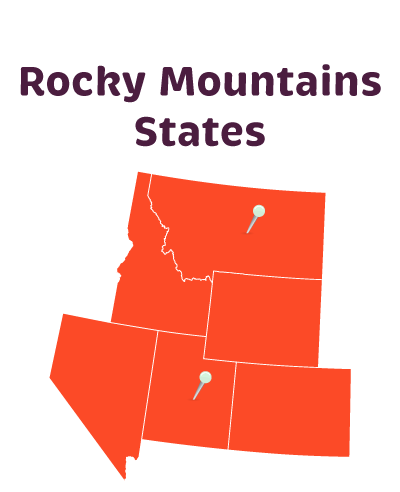 Maybe it's the winding hiking trails or beautiful rock-climbed views that temps burger creators from this area to be a little more adventurous with their ingredients. Whatever the inspiration, these burgers help the Rocky Mountain area be a unique destination for visitors from around the US and the world.

Sit down at a mountainside eatery to find burgers with peanuts, pastrami or salad dressing.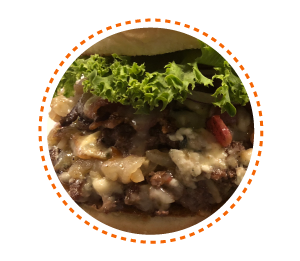 Nutburger from Montana
This burger is smashed, fried, then topped with crushed peanuts and a sweetened mayo for a crunchy-salty-sweet experience.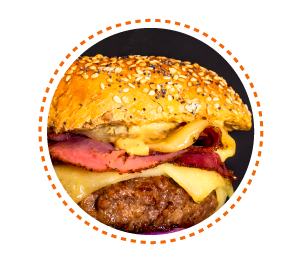 Pastrami Burger from Utah
A patty layered with pastrami, thousand island dressing, and cheese.
---
---
Are you in the continental US and can see the Pacific? Congrats! You're in the far west where local ingredients like avocado and dairy help define the menu.

While California fare is often fresh and simple, burgers from the state still stand out, and often influence the rest of the country.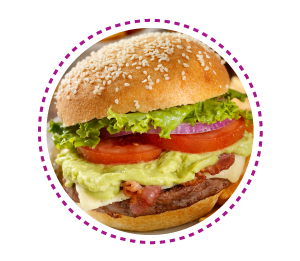 California Burger from California
In other parts of the US, this burger means lettuce, tomato, and onion. But order one inside California borders and you'll discover avocado and bacon under the bun.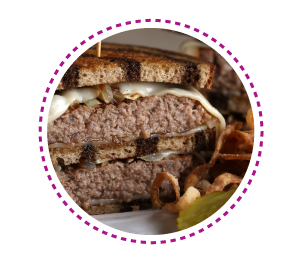 Patty Melt from California
A 1940's invention using a beef patty, swiss cheese, grilled onions on rye bread all pan fried in butter.
---