Menu Ideas To
Bring New Life
To Burgers
Explore this section for limited-time-offering burger concepts that will do your menu proud and establish your restaurant as the best burger joint around!
Elote Burger aka the Corn Hole
Burger served on a buttered soft white roll, with sliced tomato, iceberg lettuce, and a grilled corn salad, dusted with chili powder.
bring these ideas to life with one of our burgers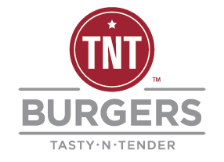 TNT™ Burgers
The premium IQF foodservice burger patties that deliver perfectly seasoned, fresh-from-the-grill taste, and superior tenderness and juiciness even after competitive hold times.

Cedar Canyon®
The burger patties made exclusively from primal rib meat and no added ingredients that deliver an upscale flavor profile and demand a higher price point.
Maverick® Burgers
The 100% pure beef, unseasoned burger patties that are proprietarily formed to be wider to provide superior bun coverage and to deliver a heartier burger eating experience.